As an eyelash technician, it is your responsibility to provide your clients with the best possible service. This means being knowledgeable about the products you use and being able to apply them correctly. It also means having a good understanding of the anatomy of the eye and knowing how to properly care for lashes.

Here are some tips on how to be a good eyelash technician: Be knowledgeable about the products you use. This includes knowing which products are safe for use around the eyes and which ones are not.

You should also be familiar with the different types of lash extensions available and be able to recommend the best type for your client based on their individual needs. Understand the anatomy of the eye and Lashline. Knowing where each lash is located will help you apply extensions correctly and minimize any potential irritation or discomfort for your client.

It's also important to understand how lashes grow in order to properly care for them post-extension application. Maintain proper sanitation standards. This is critical in preventing cross contamination and protecting both you and your client from infection.
Choose the right products for your clients
Make sure you know what kind of products will work best for each client, and that you have a good selection to choose from
Develop a good technique
Practice makes perfect! Take the time to perfect your eyelash application technique so that you can apply the lashes flawlessly every time
Be gentle with your clients' eyes
This is important both for their comfort and for preventing any damage to their natural lashes
Be patient with your clients
Some clients may be more difficult than others, but it's important to remain calm and professional at all times
Make sure your work area is clean and organized
This will help ensure a sanitary environment for both you and your client, and will also make it easier for you to find everything you need during the appointment
Licensed Vs Certified Lash Tech Texas
The lash industry is growing rapidly and there are many options for those wanting to join the field. In Texas, you can either become a licensed cosmetologist or esthetician, or complete a certification program to become a certified lash technician. Both routes have their pros and cons, so it's important to do your research before choosing which path is right for you.

As a licensed cosmetologist or esthetician in Texas, you already have the education and training needed to perform lash extensions. This means that you can start working immediately after getting your license. However, because lash extensions are not currently regulated by the state, there is no specific licensing exam for lash technicians.

This means that you'll need to learn about lash extension application through trial and error, or by taking an advanced course from a reputable provider. Becoming a certified lash technician requires completing a certification program from an accredited institution. These programs typically take between 2-4 weeks to complete, and include both classroom instruction and hands-on training.

After successfully completing the program, you'll be able to take an examination to earn your certification. Becausecertification programs provide detailed instruction on how to apply lashes safely and correctly, they offer a more comprehensive education than what you would receive through trial and error alone. So, which route should you choose?

If you're looking for a fast way to get started in the lash industry, becoming a licensed cosmetologist or esthetician may be the best option for you. However, if you want comprehensive training that will set you up for success in the long run, pursuing certification may be worth the extra time and effort. Whichever route you choose, make sure to do your research beforehand so that you can make an informed decision about what's best for your career goals.
Pros And Cons of Being a Lash Technician
If you're considering becoming a lash technician, it's important to weigh the pros and cons of the job before making a decision. Lash technicians provide a valuable service to their clients, but the work can be challenging. Here are some things to consider before taking on this career:

The Pros: 1. You can be your own boss: Lash technicians typically work independently, which means you have the freedom to set your own hours and rates. This can be a great option if you're looking for flexibility in your career.

2. There is potential for good earnings: Lash technicians who build up a strong client base can earn a decent income from their work. If you're diligent about marketing yourself and providing high-quality services, there's potential to earn good money as a lash technician. 3. You can help people feel better about themselves: For many people, having long, luscious lashes makes them feel more confident and beautiful.

As a lash technician, you have the opportunity to help people boost their self-esteem by giving them the lashes they desire. The Cons: 1. The work can be physically demanding: Applying lashes requires precision and attention to detail, which can be taxing on your hands and arms.

Additionally, working with different clients all day long can be mentally draining. 2)There is potential for eye irritation: Some clients may experience mild irritation or even allergic reactions to the products used during lash applications.
How to Become an Eyelash Extension Specialist in Texas
If you're considering becoming an eyelash extension specialist in Texas, there are a few things you need to know. First, you'll need to complete a cosmetology program at a licensed school. Once you've completed your schooling, you'll need to pass the state board exam and obtain a cosmetology license.

After that, you can start your own business or work for an existing salon or spa. There's no specific training required to become an eyelash extension specialist, but it helps to have experience with other aspects of cosmetology, such as hair styling or makeup application. You should also be comfortable working with small tools and delicate materials.

Once you've completed your education and obtained your license, it's time to start marketing your services. You can do this by creating a website or social media profile devoted to your business, handing out business cards, or even taking out ads in local publications. Make sure potential clients know what sets you apart from other lash artists in the area – whether it's your attention to detail, use of high-quality products, or friendly customer service.

With hard work and dedication, you can build a successful career as an eyelash extension specialist in Texas!
320 Hour Eyelash Extension Course Online Texas
Are you looking for a way to enhance your beauty career? If so, consider taking a 320 hour eyelash extension course online in Texas. This type of course will provide you with the skills and knowledge needed to apply lash extensions correctly and safely.

In addition, you'll learn how to select the right products and tools for the job, as well as how to troubleshoot any problems that may arise during the application process. Once you complete a course like this, you'll be able to offer your clients beautiful, long-lasting lash extensions that can really help them feel more confident and put their best face forward. If you're interested in learning more about this exciting field, contact us today to sign up for our next online course!
Texas Eyelash Extensions Certification Online
If you're considering getting eyelash extensions in Texas, it's important to make sure that the person you're seeing is certified. There are a lot of places that offer certification courses online, so you can definitely find one that fits your schedule and budget. Here are a few things to keep in mind when looking for a course:

– Make sure the course is accredited. This will ensure that it meets all the necessary requirements and standards. – Ask about the curriculum.

You want to make sure that you're getting comprehensive training on everything from application techniques to safety procedures. – Find out if there's a practical component to the course. It's always helpful to have some hands-on experience before working on real clients.

Once you've found a course that meets all your criteria, sign up and get started! After completing the certification process, you'll be able to start offering lash extensions in Texas and help your clients achieve beautiful, long lashes.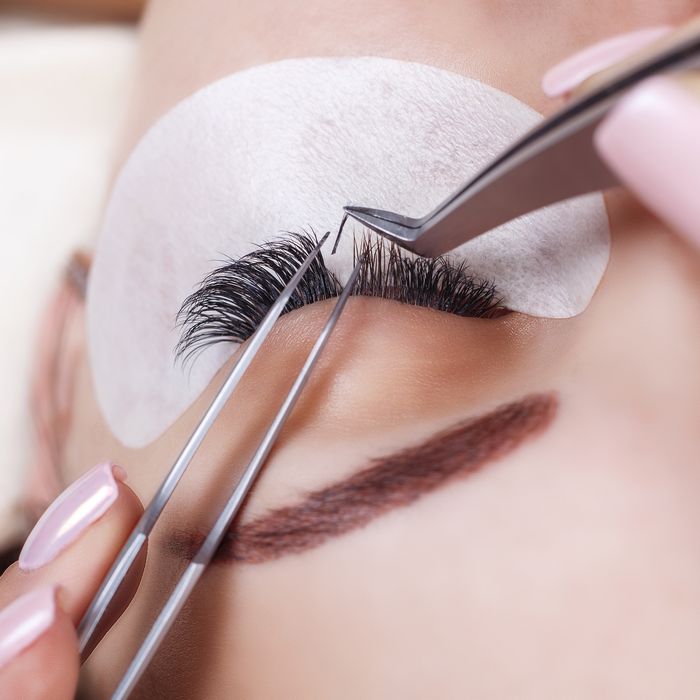 Credit: www.thecut.com
How Do I Become a Better Eyelash Technician?
There is no one answer to this question as everyone has different strengths and weaknesses. However, here are five general tips that will help you become a better eyelash technician: 1. Practice, practice, practice!

The more you do it, the better you will become at applying eyelashes. 2. Watch online tutorials or attend training courses to learn new techniques and brush up on your existing skills. 3. Make sure your lash application process is as sterile as possible by using fresh disposable supplies and keeping everything clean and sanitized.

4. Be patient with your clients and take your time to apply the lashes correctly – rushing will only result in mistakes. 5. Always follow up with your clients after their appointment to ensure they are happy with the results and address any concerns they may have.
How Long Does It Take to Be a Successful Lash Tech?
If you're thinking of becoming a lash technician, you might be wondering how long it will take to become successful in the field. The answer may vary depending on your goals and definition of success, but we've put together some general guidelines to help you get started. To become a Lash Technician usually takes around 6-8 weeks of training.

This can be done through various academies or courses that are available both online and offline. Once you have completed your training, it is important to find a good lash salon to work in and perfect your craft. Depending on your skill level and drive, it could take anywhere from a few months to a year to build up a strong clientele base.

There are always new trends emerging in the beauty industry, so it's important to keep up with the latest styles and techniques if you want to be successful as a Lash Technician. Continuing education is key to keeping your skills sharp and expanding your service offerings. With dedication and hard work, you can achieve success as a Lash Technician in no time!
How Long Does It Take to Become a Good Lash Artist?
It takes quite a bit of practice to become a good lash artist. Depending on your skill level, it could take weeks or even months to perfect the technique. However, once you have mastered the art of applying lashes, you will be able to create beautiful and flawless designs that will last long and look great.
Is Being an Eyelash Tech Hard?
No, being an eyelash tech is not hard. In fact, it can be quite easy and rewarding! As an eyelash tech, you will be responsible for providing your clients with beautiful and luscious lashes.

This means that you must have a steady hand, as well as a good eye for detail. You will also need to be familiar with the different types of lash products and how to properly apply them.
Becoming A Lash Technician *DETAILED* Survival Guide| Start Off Right!!
Conclusion
As an eyelash technician, it is your responsibility to make sure your clients look and feel their best. Here are a few tips on how to be a good eyelash technician: 1. Be patient with your clients.

It can be frustrating when a client is constantly moving or blinking, but try to remain calm and professional. 2. Listen to your clients' needs. Some clients may want natural-looking lashes, while others may want something more dramatic.

Pay attention to what your client wants and do your best to deliver. 3. Be precise with your application. This is not the time for sloppy work – take your time and apply the lashes carefully.

Your clients will appreciate it! 4. Keep everything clean and sanitized . Eyelash extensions are applied near the eye, so it's important to keep everything clean and sanitized throughout the entire process .

5 . Make sure the lash adhesive is of good quality . Cheap adhesives can cause irritation or even damage the natural lashes , so only use high-quality products .