There's no denying that the eyelash industry is booming. More and more women are getting lash extensions, and as a result, there are more businesses popping up to meet this demand. If you're thinking about starting your own eyelash business, you'll need to put some thought into how you're going to market your business.

Here are a few tips to get you started.
Establish your brand identity
Your eyelash business should have a strong, consistent brand identity that is easily recognizable by your target market
This can be achieved through professional branding and marketing materials like a logo, website, and social media presence
Research your target market
Take the time to understand who your ideal customer is and what their needs are
This will help you create targeted marketing campaigns that are more likely to reach and resonate with your target audience
Develop a marketing strategy
Once you know who your target customer is, you can start developing a marketing strategy that includes both online and offline tactics
Some ideas include content marketing (like blog posts or eBooks), email marketing, social media advertising, and search engine optimization (SEO)
Execute your marketing plan
Once you have all of your ducks in a row, it's time to start executing your marketing plan! Track your progress and results so you can adjust your tactics as needed along the way
Measure success & repeat steps as necessary
Last but not least, don't forget to measure the success of your Marketing campaigns so you can determine what's working well and where there's room for improvement
How to Market Your Mink Lash Business
Are you looking to start a mink lash business? If so, there are several things you need to do in order to market your business effectively. Here are four tips on how to market your mink lash business:

1. Use social media platforms to your advantage. Make sure you have a strong presence on all major social media platforms, such as Facebook, Twitter and Instagram. Utilize these platforms to share photos and information about your products, as well as special offers and promotions.

This will help attract new customers and grow your base of loyal followers. 2. Make use of online advertising tools. Google AdWords and other online advertising tools can be extremely effective for reaching new customers and driving traffic to your website or online store.

Invest some time in learning how to use these tools effectively, so you can get the most bang for your buck with your marketing budget. 3. Get involved with local events and meetups related to beauty/fashion/lashes . This is a great way to network with potential customers and get word-of-mouth exposure for your business.

Attend local events related to beauty, fashion or lashes, or even host your own meetup or workshop on applying mink lashes properly. You never know who you'll meet or what opportunities could come from getting involved locally!
How to Get Lash Clients on Instagram
If you're a lash artist looking to build your clientele, Instagram is a great platform to market your business. With over 800 million monthly active users, there's a vast potential audience for you to reach. Here are some tips on how to get lash clients on Instagram:

1. Use hashtags Hashtags are a great way to reach new audiences and make your content discoverable. When creating hashtags for your posts, be sure to use relevant keywords so that people can easily find your work.

Some popular lash-related hashtags include #lashes #eyelash #lashextensions #lashartist #volumelashes #londonlashes etc. 2. Post before and after photos/videos Lash clients want to see the results of your work!

Posting before and after photos or videos is a great way to show off your skills and attract new clients. Be sure to tag each photo/video with relevant hashtags so that people can find them easily. 3 .

Offer special deals/discounts Offering special deals or discounts is a great way entice new clients to try out your services. You could offer a discount for first-time clients, or run periodic specials like % off certain lash treatments.

Be sure to promote these deals heavily on social media and in any other advertising channels you're using (e-mail marketing, flyers, etc.) 4 . Collaborate with other businesses

Collaborating with other businesses in the beauty industry is a great way not only get exposure for your own business but also build relationships with other professionals in your field. You could collaborate on social media giveaways, promotional events or even product development projects. 5 . Get involved in the community Getting involved in the local community is another great way raise awareness about your business and attract new customers It shows that you're invested in more than just making money – you care about giving back as well!
Lash Tech Promotion Ideas
As a lash tech, you are always looking for ways to promote your business and attract new clients. There are many different promotion ideas that you can use to get the word out about your lash services. One great way to promote your lash business is by offering special discounts or promotions.

You can offer a discount for first-time clients, or offer a package deal on a certain number of lash extensions. You can also run a promotion on social media, offering a discount to anyone who books an appointment through your page. Another great way to promote your lash business is by hosting events or workshops.

You can host an event at your salon, or partner with another local business to host an event together. This is a great way to show off your work and attract new clients. You can also offer Lash 101 workshops, where you teach people the basics of applying and caring for false lashes.

There are many other creative ways to promote your lash business. Get creative and think outside the box! The sky's the limit when it comes to promoting your brand and attracting new clients.
How to Get Lash Clients on Facebook
Are you a lash artist looking for new clients? If so, Facebook can be a great way to find them! Here are some tips on how to get lash clients on Facebook:

1. Use relevant keywords in your profile and posts. When potential clients search for Lash Artists on Facebook, you want your name and profile to come up in the results. Use keywords such as "lash artist," "eyelash extensions," etc., in your profile and posts to help make sure you show up in searches.

2. Make sure your profile and cover photos are professional and eye-catching. First impressions matter, so you want to make sure your photos look great! Potential clients should be able to see that you're a talented and professional lash artist just by looking at your photos.

3. Post before-and-after photos of your work. Nothing speaks louder than results, so make sure to showcase some of your best work on Facebook. Before-and-after photos are especially effective in showing off what you can do!

4. Use calls-to-action in your posts. Encourage potential clients to book an appointment with you by using calls-to-action such as "book now" or "call today" in your posts. This will help convert leads into actual appointments booked!
Lash Content Ideas
Are you a lash artist looking for content ideas? If so, you've come to the right place! Here are 10 lash content ideas that will help you promote your business and engage with your audience:

1. Showcase your work – share before-and-after photos or videos of your amazing lash transformations! 2. Offer tips & tricks – give your followers some helpful tips on how to get the most out of their lashes (e.g. how to properly clean them, what products to use, etc.) 3. Share behind-the-scenes footage – give your followers a glimpse into what goes on behind the scenes in your lash studio!

4. Host a Q&A session – answer any questions that your followers may have about lashes or lash care! 5. Offer discounts & promotions – let your followers know about any special deals or promotions that you're currently running! 6. Announce new products/services – let everyone know about any new products or services that you're offering at your studio!

7. Give away freebies – who doesn't love free stuff? Hold a contest or giveaway and let your followers win some Lash goodies!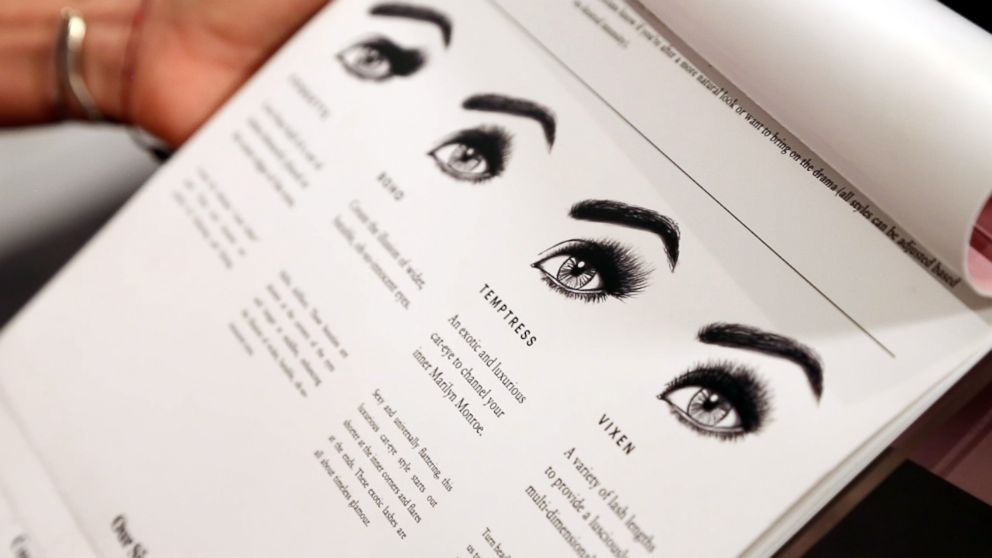 Credit: abcnews.go.com
How Can I Market My Eyelash Extensions Business?
There are a few things you can do to market your eyelash extensions business. You can start by creating a website and social media profiles for your business. Make sure to include lots of photos and information about your services on your website.

You should also create some promotional materials, like flyers and business cards, to help spread the word about your business. Another great way to market your eyelash extensions business is to offer discounts or specials. This can help attract new customers or encourage existing customers to come back for more services.

You can also host events or workshops to promote your business. This is a great way to get people interested in what you do and learn more about lash extensions. Finally, word-of-mouth marketing is always a valuable tool.

Encourage satisfied customers to leave reviews on your website and social media pages, and tell their friends about your lash extension services.
How Do I Get Customers from Eyelashes?
There are a few ways that you can get customers from eyelashes. One way is to put up flyers in local businesses and beauty salons. You can also distribute business cards to people who you think would be interested in your services.

Another way to get customers is to create a website or blog where you can showcase your work and provide information about your prices and contact information. You can also use social media platforms like Facebook and Twitter to promote your business and reach out to potential customers.
How Do I Promote My Lash Business on Instagram?
There are a few key ways to promote your lash business on Instagram: 1. Use high-quality, professional photos. This will help you attract potential customers and show that you're a credible business.

2. Post interesting and eye-catching content that will engage your followers. This could include before-and-after photos, lash tips, or special promotions. 3. Use hashtags to reach a wider audience.

Hashtags can help people discover your content who wouldn't otherwise know about your brand. Try using relevant hashtags such as #lashes #lashextensions #eyelash Extensions #volumelashes #lashartist 4. Run giveaways or contests.

People love free stuff! Hosting a contest is also a great way to get people talking about your brand on social media. 5 .

Partner with other businesses or influencers in the industry.
Is an Eyelash Business Profitable?
Yes, an eyelash business can be profitable. There are many factors to consider when starting an eyelash business, such as the cost of supplies, marketing expenses, and your target market. If you do your research and create a solid business plan, you can make a profit from your eyelash business.

One of the most important things to consider when starting an eyelash business is the cost of supplies. You will need to purchase high-quality lash extensions, glue, and other tools and products. Lash extension kits can range in price from $50-$200.

You will also need to factor in the cost of marketing materials and advertising. Another important consideration is your target market. Who are you selling your lashes to?

Are you targeting women who wear falsies on a regular basis? Or are you aiming for a more niche market, such as brides-to-be? Knowing your target market will help you determine how much to charge for your services and where to advertise.

If you do your research and create a well-thought-out business plan, an eyelash business can be profitable. By offering high-quality products and services at a fair price, you can build a loyal customer base that will keep coming back for more.
Business & Marketing Tips Every Lash Tech NEEDS TO KNOW in 2021
Conclusion
If you want to get your eyelash business off the ground, then you need to put some thought into your marketing strategy. Marketing is essential for any business, but it's especially important for a new business like an eyelash salon. There are a few things you can do to market your eyelash business and attract new customers.

First, start by creating a catchy name and logo for your salon. This will help you stand out from the competition and create a recognizable brand. Next, make sure you're visible online by creating a website and social media accounts.

Then, start advertising your services through online directories and local print publications. Finally, offer discounts or special promotions to encourage people to try out your salon. By following these tips, you'll be well on your way to success with your eyelash business!